Summer Night Activities & Evening Entertainment
Are you ready to embrace the warmth of summer even when the sun goes down? Join us at Eynesbury for evenings packed with live bands, comedy shows, exciting activities, DJs, and tasty food trucks! And for those looking to kick back and enjoy a drink, our beer garden is just the spot!
It's time to ignite your summer nights with evening entertainment! Starting on Saturday 11th November.
You're welcome to bring your own chairs and blankets for comfort, but please note that outside food and drinks are not allowed.
Summer Nights Events Schedule
Mark your calendars with our captivating lineup of entertainment!

Prepare to be swept away by the rhythm of live music, burst into laughter with stand up comedy acts, join in exciting activities & interactive experiences like backyard bocce, and groove to tunes spun by electrifying DJs!
All summer activities take place outdoors, so please bring your own chairs and picnic blankets. The venue is fully licensed, and there will be food trucks available. No outside food or drinks allowed.
Stand-Up Comedy
Summer Nights has a diverse range of evening entertainment on offer! This includes stand-up comedy shows such as Comedy Bogan Bingo and the Eynesbury Comedy Festival, adding a touch of humour to your summer night activities! 
Bogan Bingo
For a unique and entertaining experience, be sure to check out Bogan Bingo, a hilarious blend of comedy and bingo that will keep you laughing all night long!
Live Music
Live music is also on the agenda, featuring headlining acts like Elvis and Fleetwood Mac, as well as talented support performers such as Rory M, DJ Joseph, and Becky R. Whether you're into live bands, restaurants with live music, or live music venues in Melbourne, Summer Nights promises an exceptional musical experience!
Backyard Bocce Tournament
Additionally, there's an exciting backyard bocce tournament to look forward to, providing a fun and friendly competition for both seasoned players and newcomers alike! 
Food & Drinks
Join us at Ms Peacock Restaurant & Bar for a tasty treat – bookings are a must! Explore a diverse range of delicious eats from our on-site food trucks; visit our Facebook page for the lineup at each event. And don't miss the chance to unwind in our beer garden with your favourite drink in hand!
SAT 11/11 ELVIS
Andrew Portelli is an awesome Elvis Tribute Artist, known worldwide! He's been at it for 23 years, performing all over Australia, the UK, and the USA.
Andrew Portelli is a versatile singer, belting out classics from legends like The Big "O," Buddy Holly, Ritchie Valens, Neil Diamond, the Grease soundtrack, Bill Haley, and, of course, the King himself, Elvis Presley!
Before Andrew's act, it's time for Rory M, a seasoned musician and artist who wears many hats – he's a songwriter, a session vocalist, an actor, and even a voice actor. Rory is a master of harmonizing with himself using his loop pedal, promising a unique and mesmerizing show.
Doors open 4:30pm. Entertainment starts at 5pm.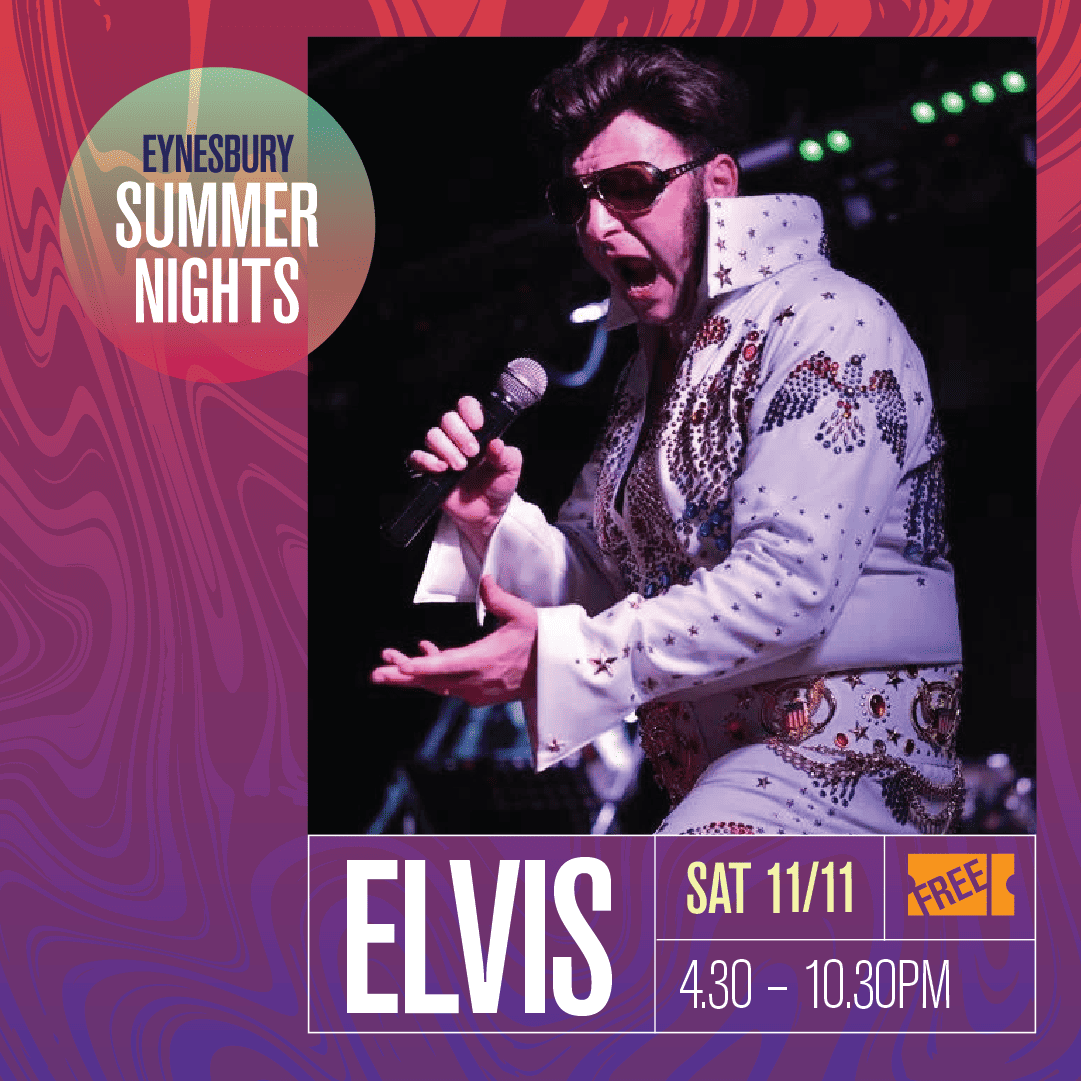 SAT 25/11 COMEDY BOGAN BINGO
Get ready for a two-person gig that turns bingo into a hilarious extravaganza – with a chance to win $2,000 in prizes! As they call out numbers, get ready for a mix of jokes, songs, and interactive fun, all themed around Australia's legends and its vibrant music history.
With an impressive history of more than 3,000 shows worldwide, you're in for a fully trademarked, high-energy game show that's engaging and interactive!
It'll be one hell of a party, complete with a DJ spinning tracks to add to the bingo comedy fun! 
Doors open at 5pm. Bingo starts at 7pm. Get in early to secure your bingo card!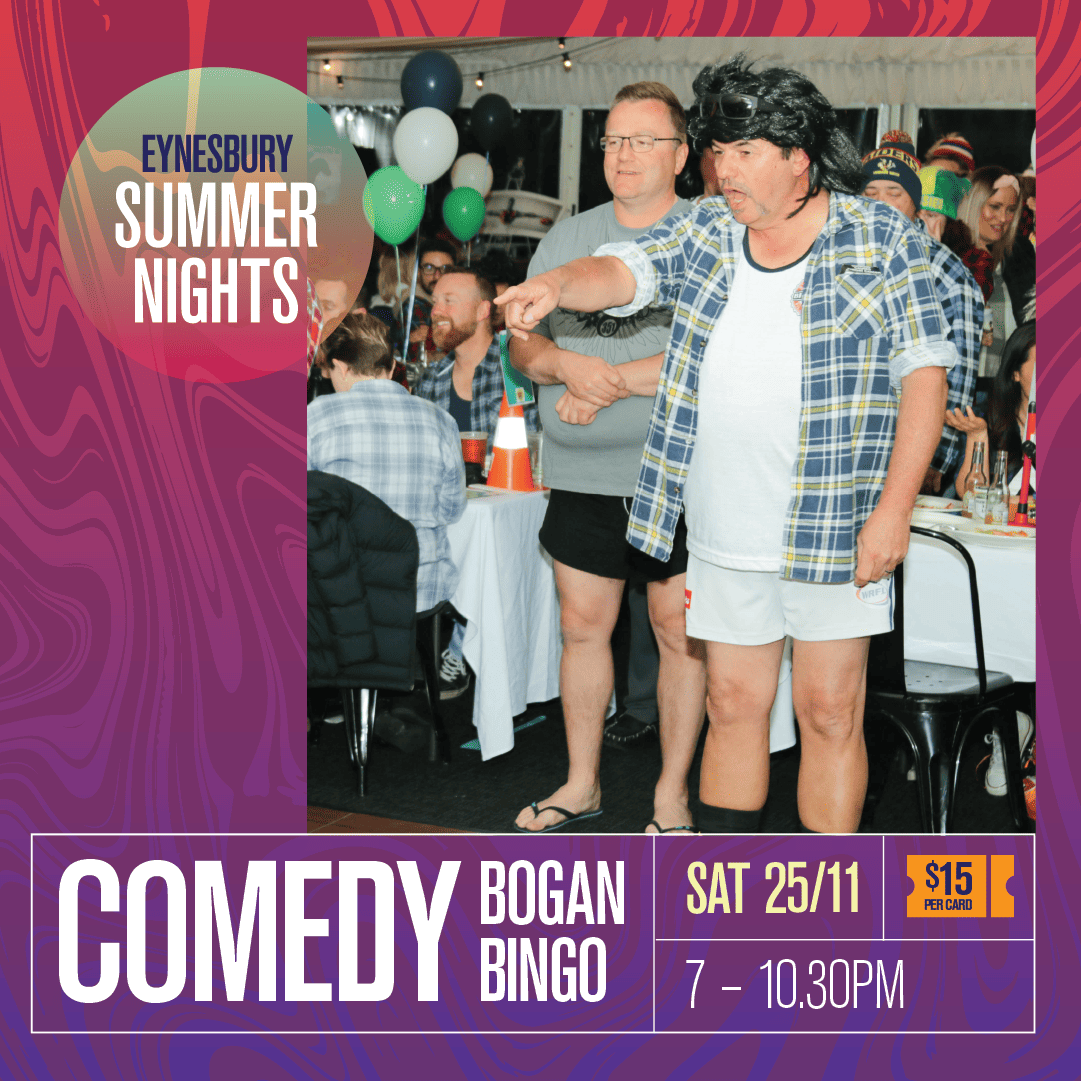 SAT 02/12 CHRISTMAS PARTY
We've got a sleigh-load of activities that will have everyone in the holiday spirit! There'll be camel rides, an obstacle course, pony rides, balloon twisting, awesome rides like the atomic drop slide and wrecking ball, face painting, jungle adventure castle, animal farm, and tasty food trucks. And, of course, we've got the main man himself, Santa, making an appearance!
After all the festive fun, we've got a rocking performance by Radio City. These Melbourne musicians are going to bring classic hits by legends like Stevie Wonder, James Brown, and Bill Withers to life, and you'll be hitting the dance floor for sure!
And to keep the party going, DJ Joseph will be mixing up tunes from the '50s to today! He's all about that musical versatility, and there's no genre he won't tackle. It's going to be a night of non-stop music and holiday celebration!
Doors open at 4:30pm.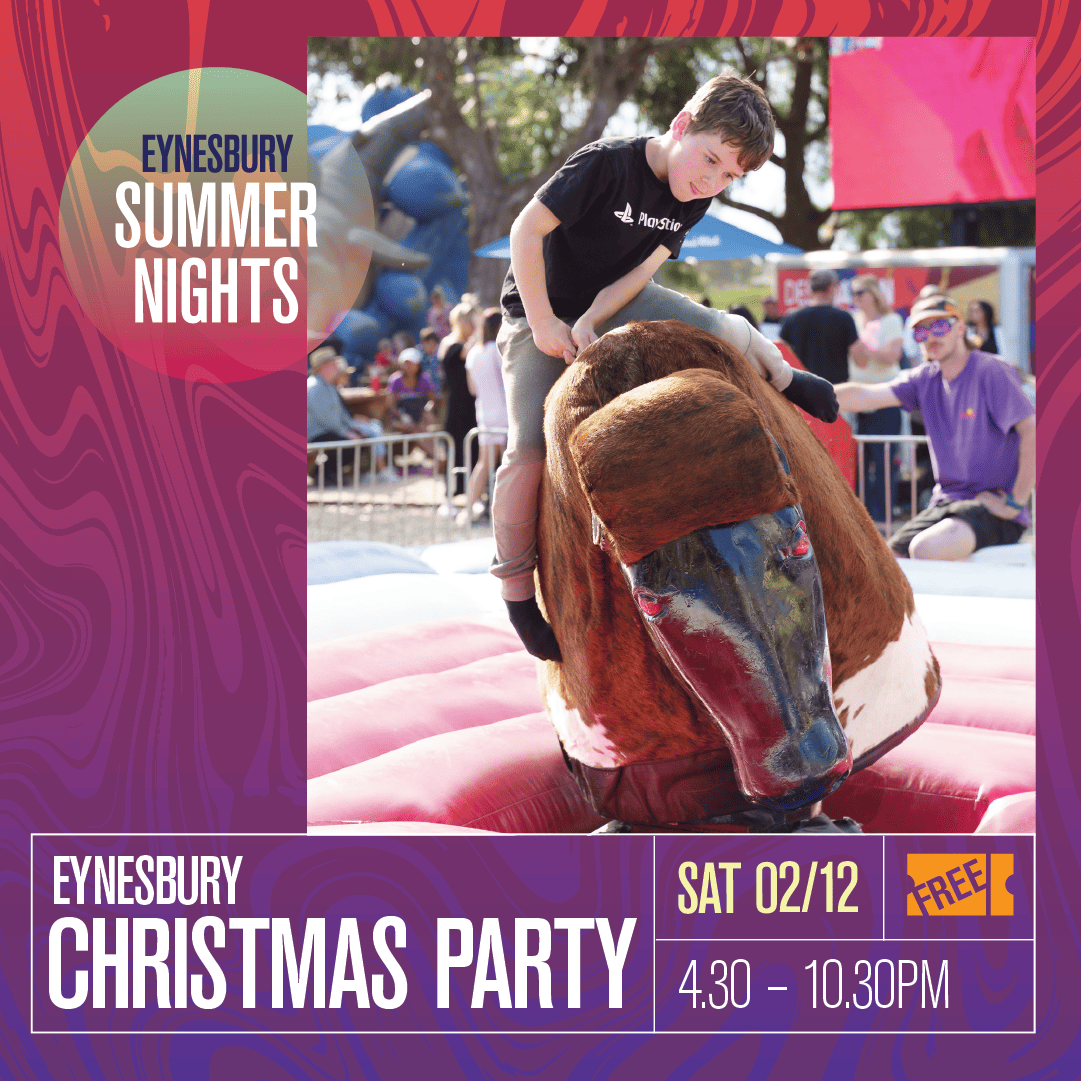 SAT 23/12 THE PIANO MEN
A tribute to two of the greatest Piano Men of all time – Billy Joel and Elton John!
Jason Dean and his superstar Superband are here to take you on a musical journey that spans from the early days right through to the greatest hits of these iconic singer-songwriters. You'll be grooving to classics like "Uptown Girl", "Only the Good Die Young", "Piano Man", "My Life", "New York State of Mind", and enjoying favourites like "I'm Still Standing", "Bennie and The Jets", "Rocket Man", "Tiny Dancer", and plenty more!
And, to keep the good times rolling, we've got a special performance by Becky, our fantastic support act! With a versatile vocal range and skills across a variety of genres, from pop and rock to classical and jazz, she's all set to put on an epic show that you won't want to miss!
Doors open 4:30pm. Entertainment starts at 5pm.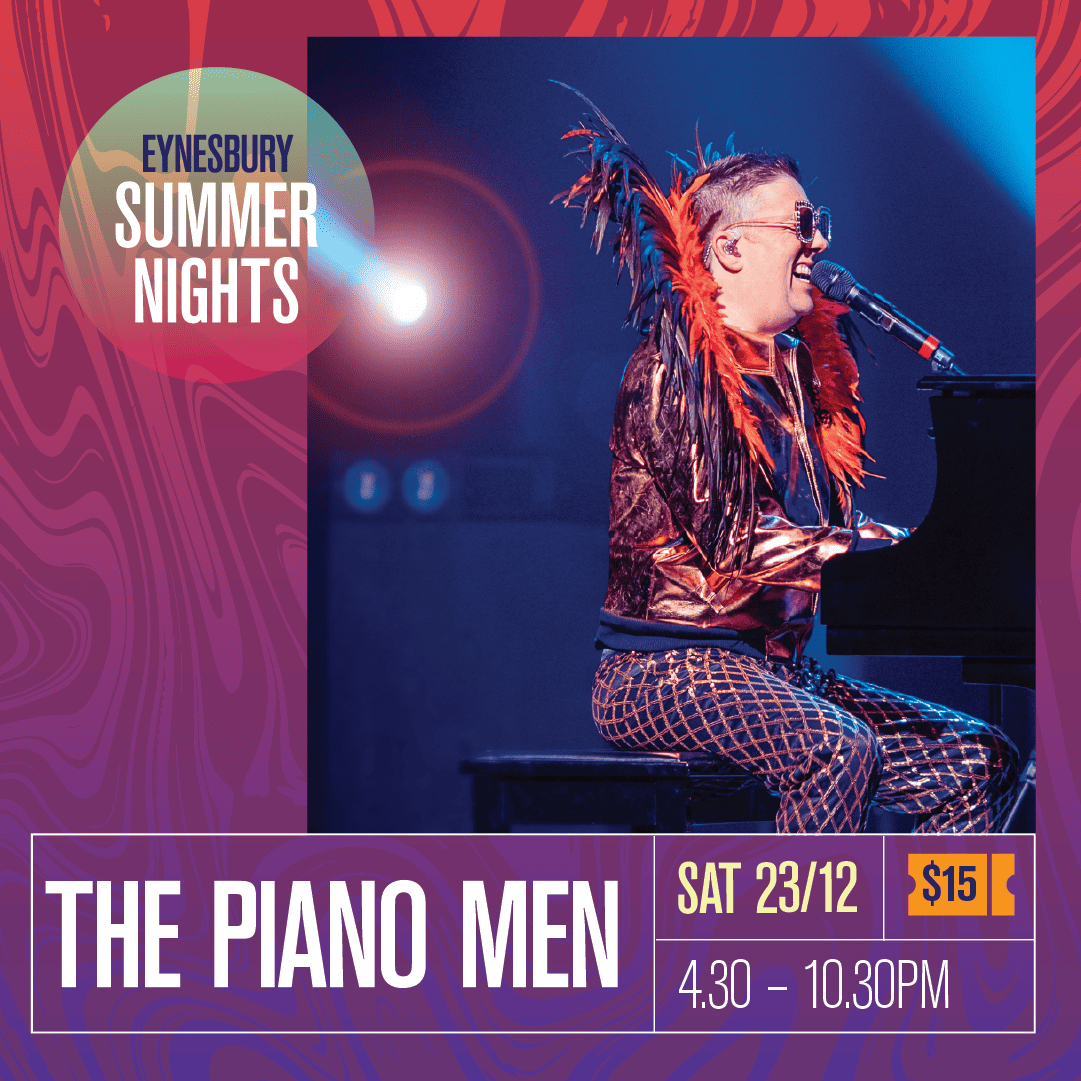 SUN 31/12 FLEETWOOD MAC
GYPSY has been wowing audiences across Australia with their dedicated tribute to the legendary music of Fleetwood Mac, the iconic Rock and Roll Hall of Famers.
This is more than just a show; it's a full-blown experience that faithfully recreates the ambiance, look, and sound of these iconic Rock and Roll Hall of Famers, covering all their greatest hits! 
And to keep the party alive, DJ Shadow is taking the stage as the support act, ensuring a night of non-stop entertainment and tunes!
Doors open 6pm. Entertainment starts at 7pm. Fireworks at 10:30pm.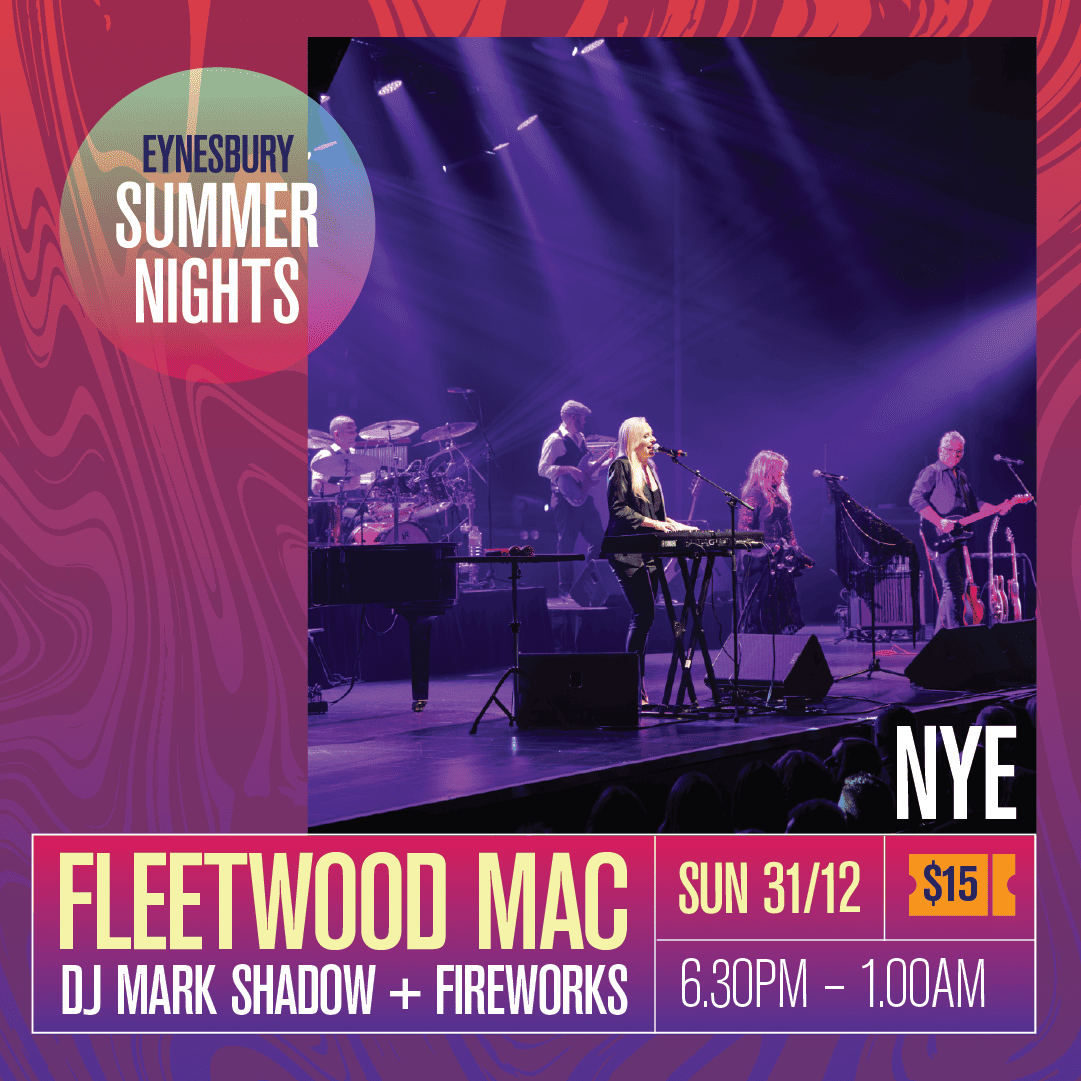 FRI 26/01 AUSTRALIA DAY I-POD SUFFLE PARTY
Get ready to party with an iPod Shuffle playlist of the best Aussie tunes! We've handpicked the hits, from classic rock to modern chart-toppers, so you'll be grooving to Men at Work's "Down Under" and many more iconic songs! 
Plus, we're taking the fun to a new level with the addition of a giant inflatable water slide, so get ready for a splashing good time!
Doors open at 12pm, and you won't want to miss our special offer – a $10 pass for unlimited access to the giant inflatable water slides for 5 hours, available from 1:30pm until 6:30pm. Dive into the fun!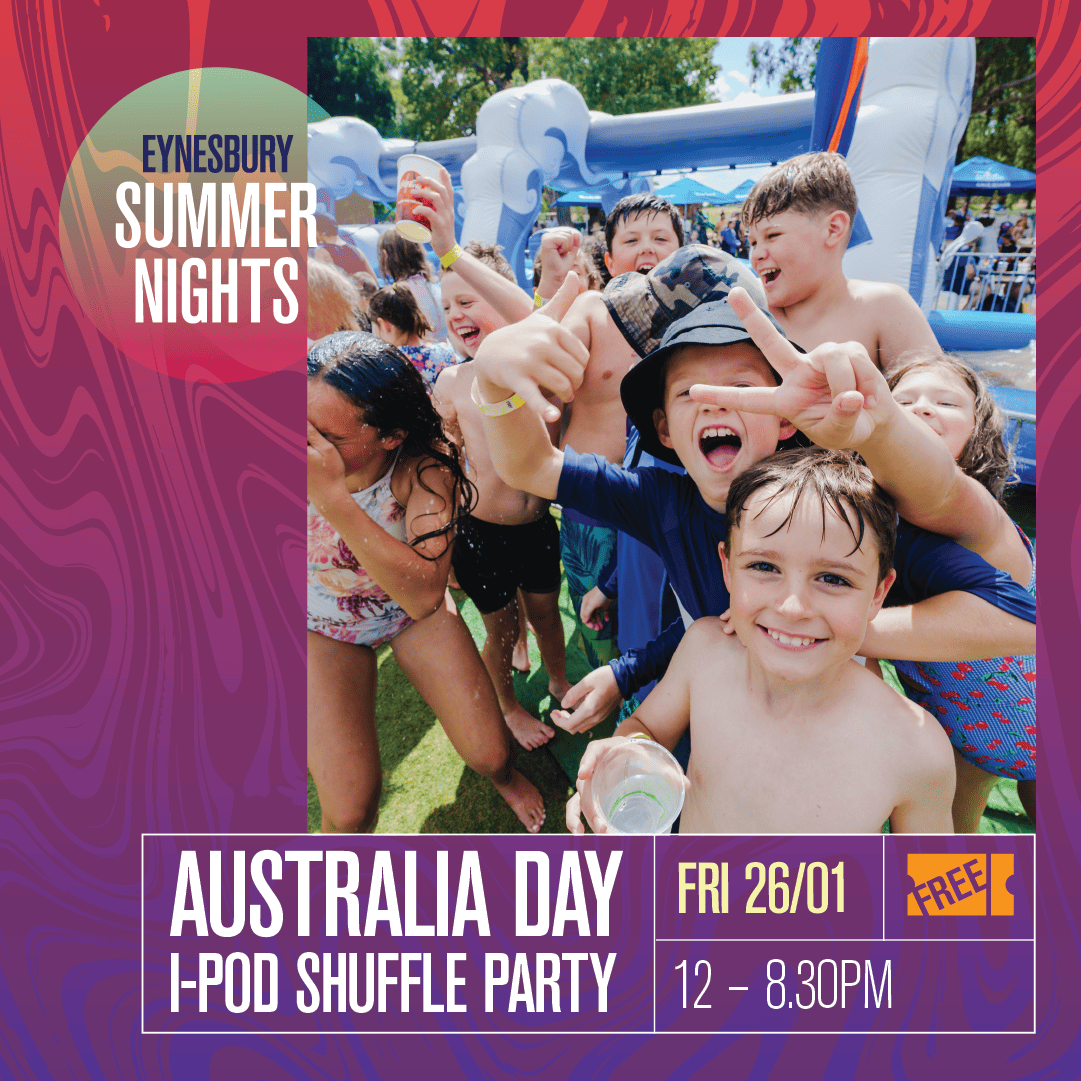 SAT 10/02 BOCCE TOURNAMENT
Roll, score, and groove at our Bocce Tournament! We're bringing together enthusiasts of this beloved Italian lawn game for a day of skill, camaraderie, and fierce competition. With precision and a dash of luck, players will aim to land their bocce balls closer to the pallino (the target ball) than their opponents.
But that's not all – we're taking this year's tournament to the next level! We're thrilled to announce that we'll also be joined by DJ Shadow, who will be providing killer beats to get the tournament going.
Whether you're a pro or a newbie, it's fun for all! Let's roll to the rhythm and see who emerges victorious!
Doors open at 4:30pm for team registrations. Entertainment and tournament start at 6pm.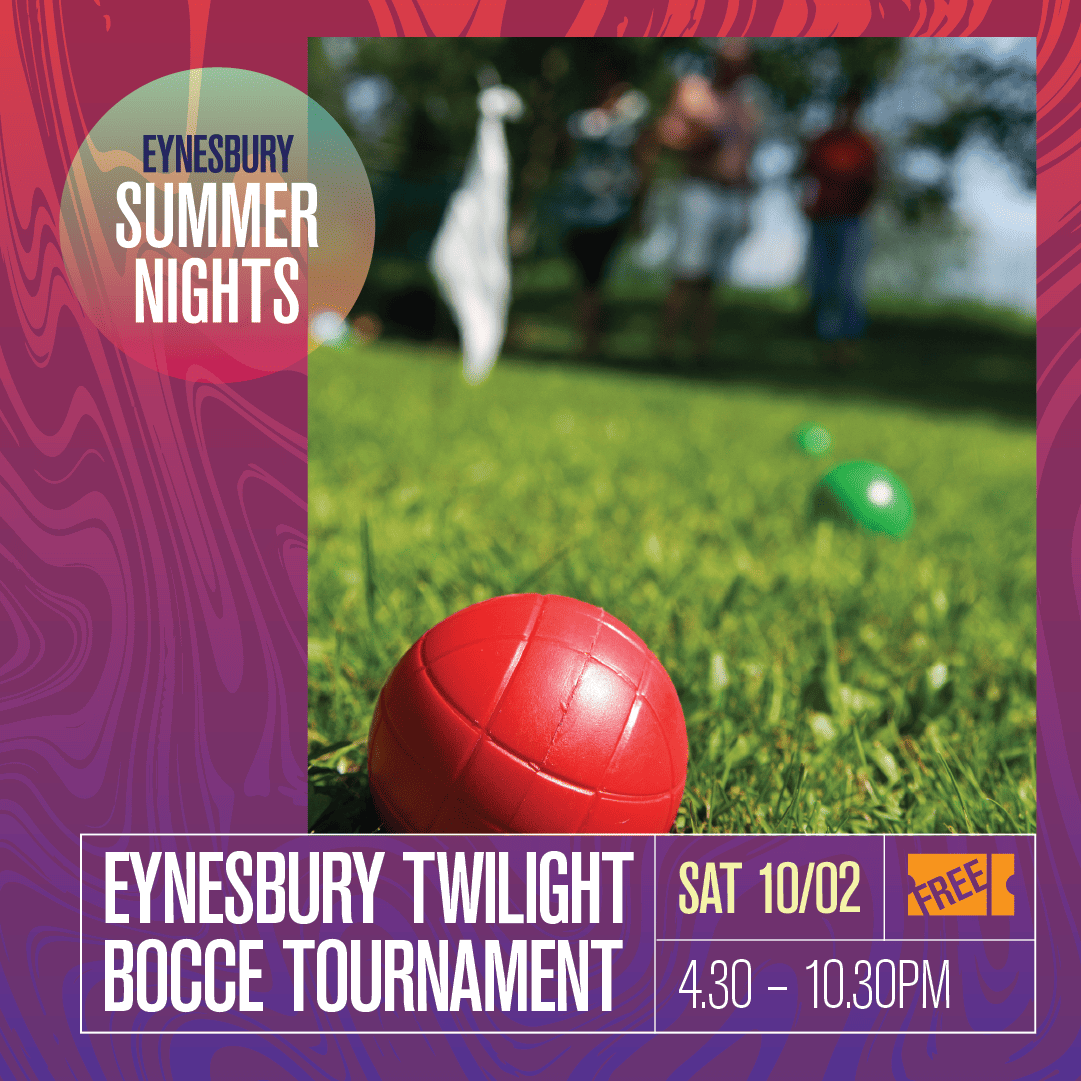 SAT 24/02 EYNESBURY COMEDY FEST
Laughter is just around the corner! We'll be unveiling a hilarious lineup of comedians, from around the globe and right here in Melbourne, by the end of January/beginning of February.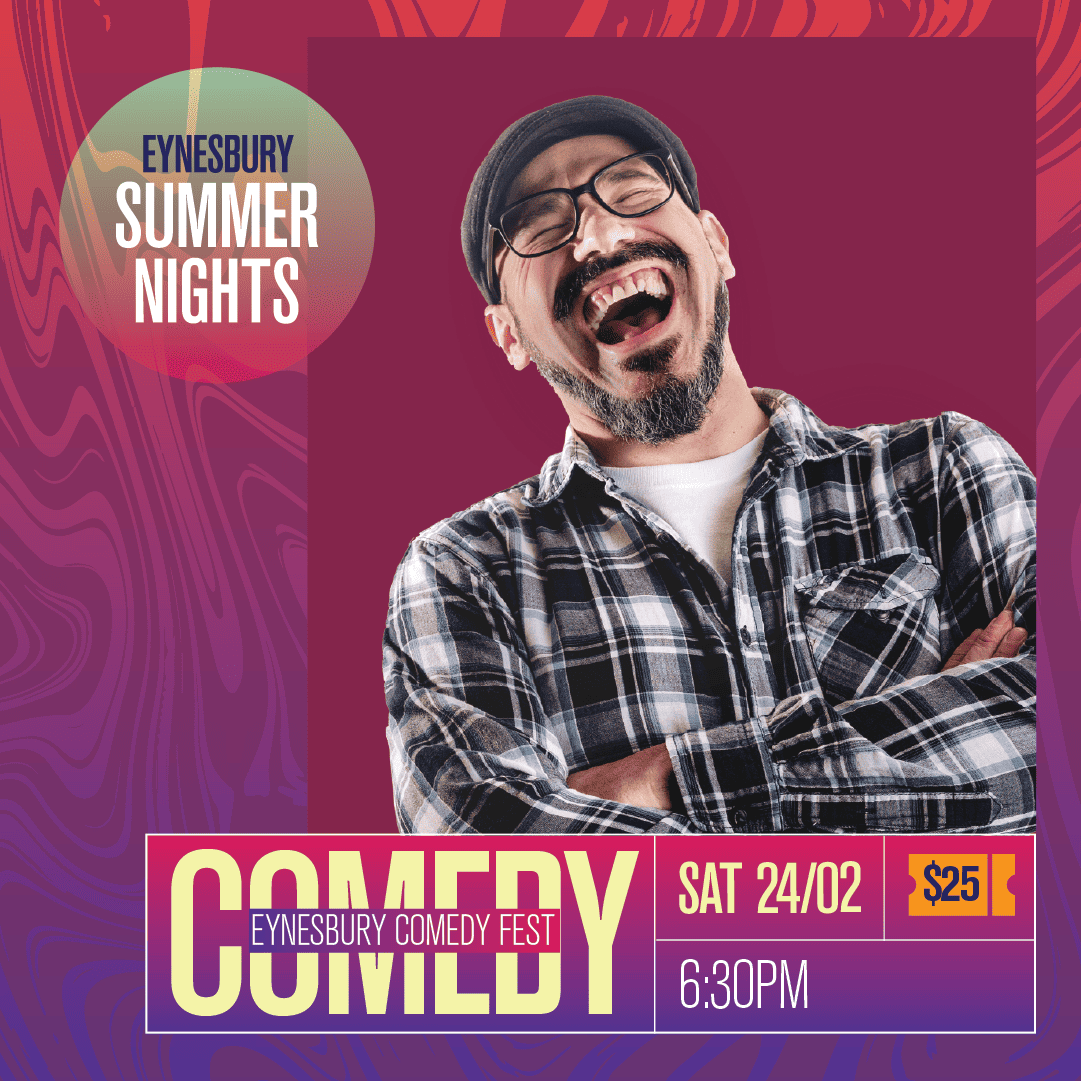 Frequently Asked Questions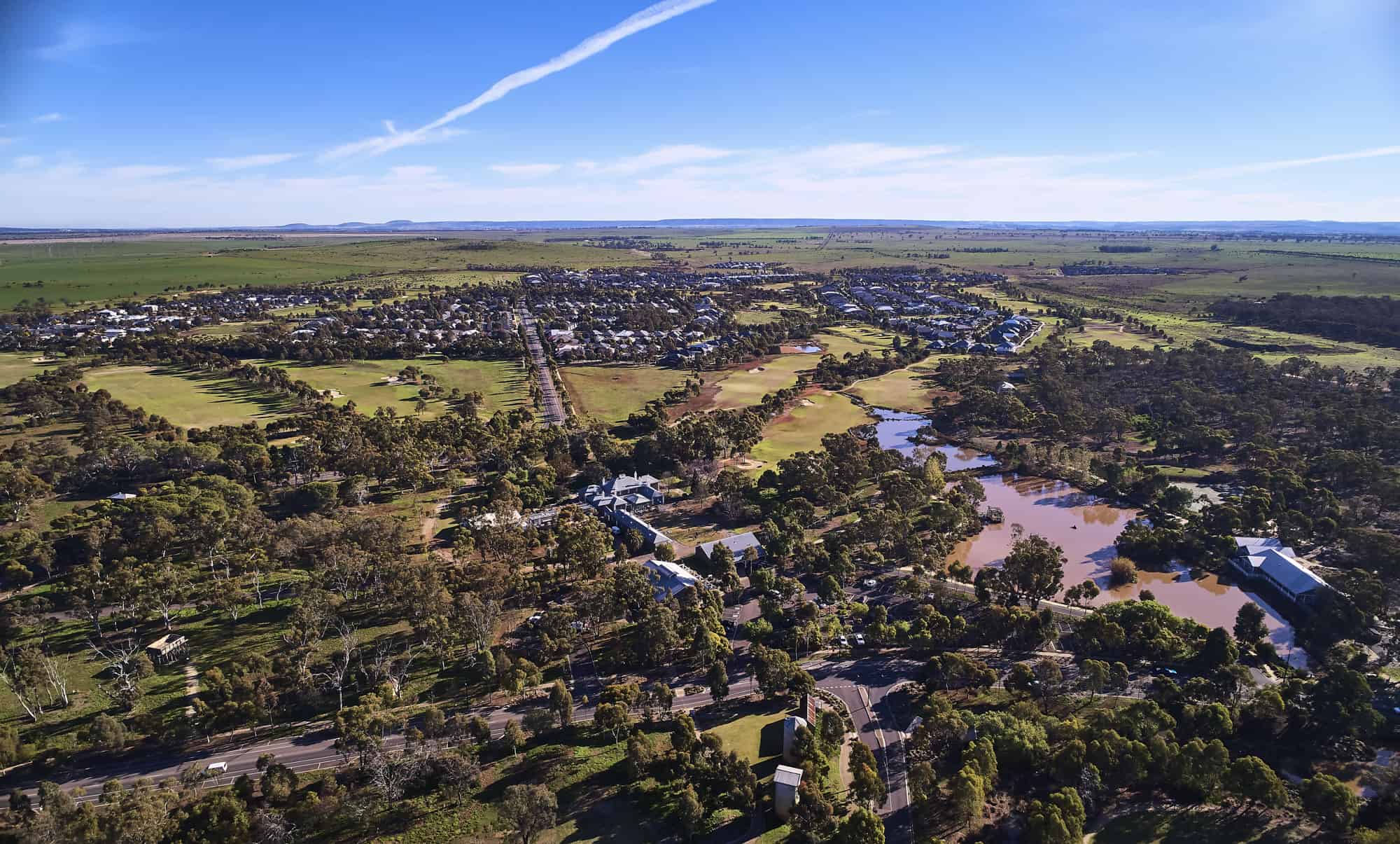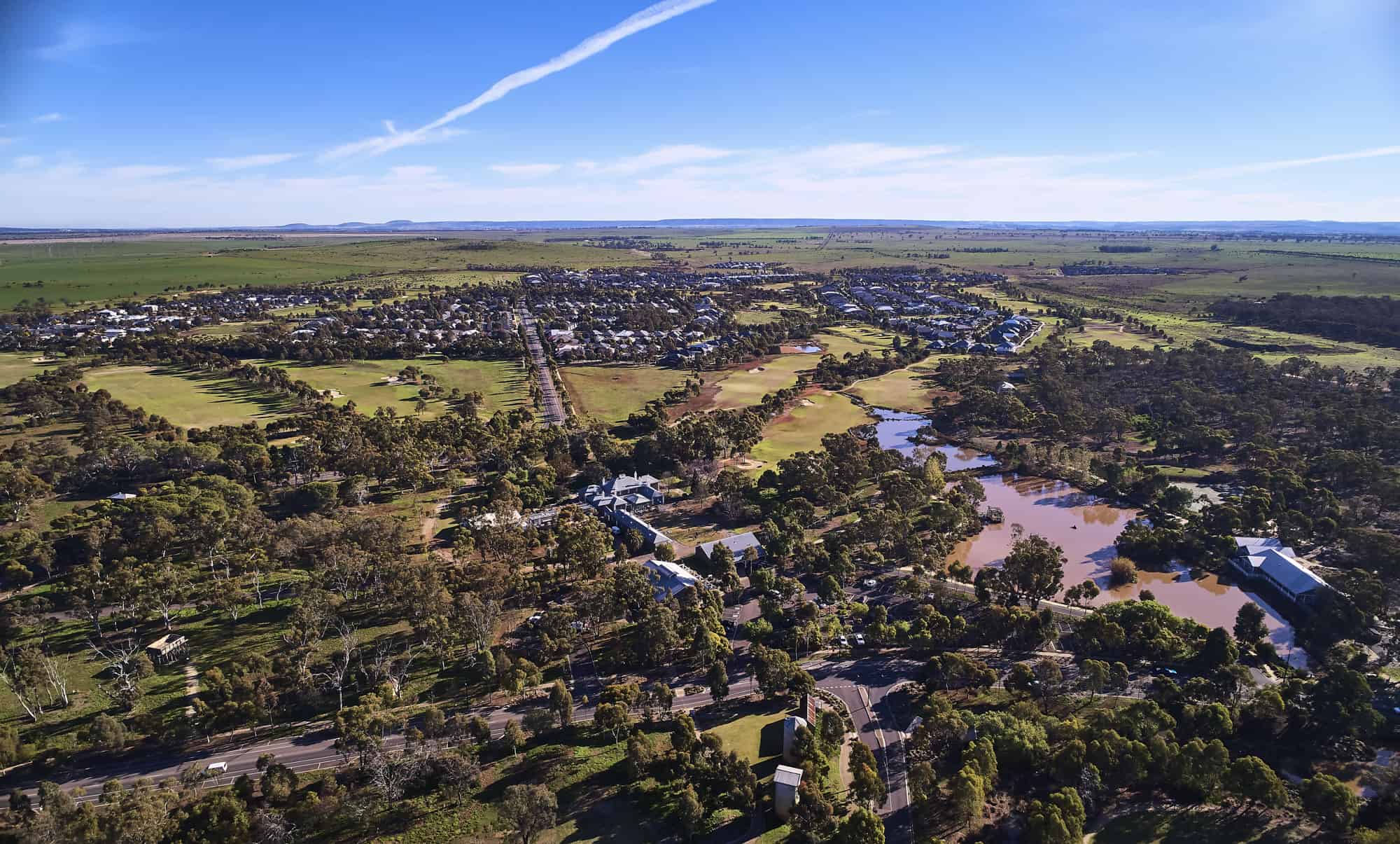 All about Eynesbury
Surrounded by 288-hectares of Grey Box Forest, Eynesbury is a fully contained world. With a community of nearly 3,000, with so much on the ground already.
And it's just 40 minutes from Melbourne's CBD. Visit our delicious Ms Peacock Restaurant and discover our beautiful wildlife & waterfall, or enjoy a round of golf on our 18-hole championship course.